Besides sightseeing and shopping there are several other activities that can recharge your cells!!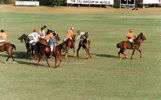 Polo
---
Jaipur has one of India's best polo grounds. Situated in the vicinity of the luxurious Rambagh Palace Hotel, the club offers perhaps the most inexpensive polo game in the world. (Further information from Secretary, Rajasthan Polo Club, Ram Bagh Palace, Jaipur).
Golf
---
Ram Bagh Golf Club which is located next to the Ram Bagh Palace Hotel. The golf Course has a length of 6782 yards and SSS rating of 72, fixed by Indian Golf Union. Non-members can play Golf on payment of green fee. There is a professional engaged by the Club who is available for coaching and to play with. (For information : Hony. Secretary. Telephone 75529 (Office and 75095 (Res.). Hotel Clarks Amber also maintains a mini golf course for details contact : phone no. & e-mail.
Riding
---
A ride on the 'ship of the desert' could be an unforgettable experience ! Horse and camel rides, and the pleasure rides in traditional 'buggies' being arranged by the leading hotels are becoming popular.
Boating
---
There are lakes at Amer and Ramgarh where you can do boating at leisure. Amber has the majestic backdrop of the fort that is reflected serenely in the waters. At Ramgarh you are next door to nature. The sprawling lake is surrounded by mountains on three sides. By the side of the lake is the old hunting lodge of the former Maharajas now a hotel. A lush spacious garden with a zoo, an aviary, a greenhouse, a herbarium, a museum and popular sports ground are all at hand.