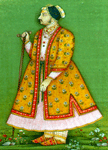 In the year 1128 A.D. Dulhae Rea of Narwar went to Dossa in order to be married to their princess. He stayed on and founded the Kingdom of the Kachhwaha Rajputs in Dhundhar. The next ruler Kankal Rao, followed the policy of his father and conquered Amber after a struggle with the Susawat Minas. Succeeding rulers like Jai Singh, Prithvi Raj, Bhar Mal, Bhagwan Dass had enough to do in extending and consolidating the kingdom which had been won.

When the great Moughal ruler Akbar died in the year 1605, Man Singh was the Governor of Kabul. He conquered Orissa, governed Bengal, Bihar and the Dakhan; and during his numerous campaigns extended the boundries of his empire.

Sawai Jai Singh was the king who shoulders the credit of laying the foundation stone of Jaipur in the year 1727. His sucessors Sawai Ishwari Singh, Madho Singh I, Jai Singh III, Ram Singh II continued the progress initiated by their precedor.

The last legendry ruler of the was Sawai Man Singh II who transformed the princely state into a secure secular one.

Today with Lt. Col Bhawani Singh, Man Singh II's eldest son the lineage of Kachhwaha continues.