The rich cultural heritage of Jaipur is amply manifested in the ensemble of colourfully vibrant and joyous fairs and festivals that keep this land perennially reverberating with the echo of celebrations. There is a wide variety of them - the animal fairs, the religious festivals and the ones which spiritedly herald the change of seasons. Added to these traditional affairs are the special festivals involving elephants, camel races, dance and music that are specially organised for the tourists.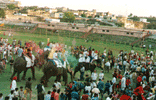 Holi
---
(March 2000 - Sunday 19th.)
The famous Indian festival of colours is celebrated on the day of the full moon in the lunar month of Phalguna. The day follows the symbolic burning of the evil Holika. In the morning people smear each other with a variety of colours, especially gulal (red coloured scented powder).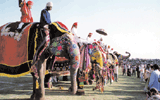 Elephant Festival
---
(March 2000 - Sunday 19th.)
The festival begins with a procession of caparisoned elephants, camels and horses followed by folk dancers and other entertainers. Elephant Polo matches, Elephant Races and Tug of War between elephants and men are the special attractions of the festival.
Gangaur Festival
---
(April 2000 - Friday 7th.)
Primarily a festival for women, Gangaur festival is held in the honour of the goddess Parvati. Women pray for their husbands and unmarried women entreat the goddess for a caring groom. A royal procession goes out from the City Palace with all regal paraphernalia.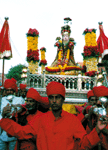 Teej
---
(August 2000 - Wednesday 2nd.)
This festival of swings marks the advent of the monsoon month of Shravan (August). Young girls, brightly dressed, sing songs of love and the rain. A royal procession starting from the City Palace passes through the city.

Janamashtami
---
(August 2000 - Tuesday / Wednesday 22nd & 23rd.)
The birth of Lord Krishna on the eighth day of waning moon in Shravana is celebrated as Janamashtami. Temples across the city are decorated with colourful lights and pageants on Krishna's life. The Laxmi Narayan Temple (Birla Mandir) has a special display which attracts huge crowds.
Navratras
---
(September 2000 - Thursday, 28th.)
Literally nine nights commemorate the victory of goddess Durga ( Shakti) over the demon Mahishasur. Navratras end with Dussehra, also called Vijay Dashmi, or the tenth day of victory. Throughout nine days devout Hindus keep day-long fasts.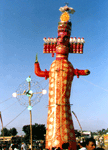 Dussehra
---
(October 2000 - Saturday 7th.)
This festival marks the triumph of Lord Rama over the demon king Ravana. Ramlilas or theatrical enactments are held and finally cracker-laden effigies of Ravana and his brother Kumbhkarna and son Meghnath are set on fire to the delight of thousands.
Diwali
---
(October 2000 - Wednesday 26th.)
Diwali is celebrated to mark the return of Lord Rama to his birthplace Ayodhya. Deafening cracker-bursts, dazzling fireworks and bright illumination light up the evening sky making it the festival of lights in the real sense of word.